Our Speakers
Kim Day


Chief Executive Officer


Denver International Airport
Leif Otteson


Executive Director


Gateway to Milwaukee
Hubert Fontanel-Ngo


Real Estate Deputy Director


AEROPORTS DE PARIS
M.Ayhan Okmen


Airport City Manager


IGA Istanbul Yeni Havalimani
Tom Mockett


Airport Masterplanning Manager


Brussels Airport Company
Steven Verhasselt


Commercial Director


Liege Airport
Arja Lukin


Project Director


Airport City Aviapolis, City of Vantaa
Ramdan Pradarma


Vice President, Corporate Planning & Transformation


PT Angkasa Pura I
Francis Cheong


Senior Manager, Airport City Development


Incheon International Airport Corporation
Kristina Alvendal


Former CEO


Airport City Stockholm
Marc Deman


Deputy Manager


Hubstart Alliance
Pieter van der Horst


Chief Commercial & Development Officer


Imam Khomeini Airport City
Paul Beck


Founder


planeground Airport Consulting
View All Speakers
The World's Leading Aerotropolis Summit!
Hosted in London UK between 20-23 August 2019, the 5th Aerotropolis World Summit 2019 aims at gathering the World's leaders and decision-makers across key stakeholders of Aerotropolis projects, including urban development authorities/ministries, airport operators, project developers and investors. With its global panel of speakers, the event offers over 18 international case studies, 5 separately organised workshops, various roundtables and unlimited networking opportunities which enables participants to maximise effectiveness in planning and developing their airport city and aerotropolis projects!
Networking & Learning Opportunities Aplenty!
Key Benefits of Attending!
The process involved in conceptualising, planning a socio-economically sustainable Aerotropolis Projects and implementing its construction activities & business models is highly sophisticated and entails numerous challenges facing decision makers. Among such challenges, major questions include socio-economic analysis & expectation; considerations on suitable economic development models; right-of-way & land acquisition; effective land-use planning & space optimisation; investment management & financing models, Maximizing profitability and non-aeronautical product/service offering revenues, properties leasing & zone planning; environmental and aeronautical regulatory requirements; effective transport infrastructure modelling and development.
Why Attend?
Evaluate Right-of-way Challenges and Models, strategic approaches to improve land acquisition effectiveness
Gain Best practices in demographic assessment, socio-economic impacts and aeronautical supply & demand
Considerations for urban masterplanning and transport infrastructure modelling
Hear Perspectives on land-use planning and optimization of available spaces and commercial properties
Maximising revenues from airports' commercial land spaces and non-aeronautical products/services offerings
Case studies on different financing models, strategies and investor management
Understand Impacts of existing environmental and aviation regulations
Political instability on project implementation and project financing
Promoting airport's and airport city's brand as an employer and as a business hub – best practices
Analyse Economic development models for maximising potential and efficiency of airport cities
Maximise effectiveness in feasibility and socio-economic analyses
Expose to best practices in promoting airports and airport cities' brands
Network with decision makers and learn from leading aerotropolis projects across the world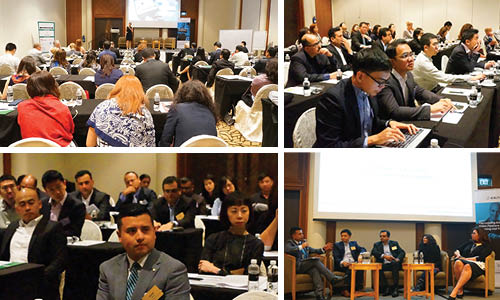 Like more information?
Email us today for the agend and grab the limited passes at this annual summit!