Our Speakers
Major Mahadi Shukor RMAF (Retired)


Head of Emergency Response Unit, Safety, Security and Quality Department (SSQ)


Lion Air Group
Saad Khan


Emergency Response Planning Specialist


UAE General Civil Aviation (GCAA)
Steven Khoo


Human Factors and Aviation Safety Advisor


Singapore Airlines
Ray Kang


Senior Manager


Incheon International Airport
Simon Petts


Head of Fire & Rescue


Gatwick Airport
Dr Marwan Ibrahim


Director of Corporate Resilience


Dubai Airports
Mahmoud Marzouk


Business Resilience Manager


Qatar Airways
Vinod Kumar RB


Business Continuity Manager


Bangalore International Airport
Marcus Almeida


Emergency Response and Security Manager


Galeao International Airport
August E. Whitcomb


Head of Group Business Resilience


Cathay Pacific Airways
Mark Buckingham


Head of Fire and Emergency Planning


Birmingham Airport
Mathews O. Ogutu


Airport Operations Manager


Kenya Airports Authority
Mark Francis Baliug


Operations Manager


Philippines Airlines
Kau S.C. More Seboko


Kau S.C. More Seboko


South African Airways
Thiago Biermann


Manager of Crisis Management,


Riogaleao Airport
Francisco Renteira


Manager of Emergency Response


VivaAerobus
View All Speakers
The 4th Business Continuity Management For Air Transport Summit is Back!
Air transport is the driver of connectivity, besides being the vital facilitator of an increasingly globalized world economy. Today's major air transport operators are highly complex making Business continuity management vital in governing the operational resilience required to prevent, manage and effectively recover from any potential crisis. Having a Business Continuity plan in place is not sufficient, as risks and crisis by their very nature can be unforeseen and unpredictable which highlights the vitality for Business Continuity plans to be trained, tested, maintained and improved on a continual cycle basis, in aim to improve and restructure plans for optimal operations involving stakeholders and relevant committees such as airlines, airports, ground handlers and control authorities. That said, it is vital to exchange latest reviews, case studies as well as latest strategies implemented by the aviation from across the globe to better enhance the effectiveness and efficiency of the air transport business continuity plans.
Gear up for the 4th Business Continuity Management for Air Transport Summit that will bring together aviation experts from Airport Operations, Airport Authorities, Civil Aviation Authorities, Airlines, Air Navigation Services and service providers, from across the globe on 29 July – 1 August 2019 in Singapore. Equip Global's four-day program will feature the latest case studies and real-life scenarios from industry experts, including the lessons learnt in building resilience whilst ensuring efficient, rapid and safe response operations post-crisis. As Business Continuity Management is not just about planning, expect to put your Business Continuity plans to the test, acquire novel strategies and skills to effectively deploy appropriate resources for improvement of reliable operations in enhancing your Business Continuity Management plans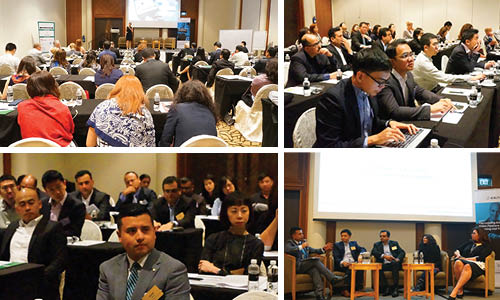 Key Benefits of Attending 4th Business Continuity Management For Air Transport Summit 2019
Develop consensus by coordinating and managing the varying key management disciplines involved in business continuity planning & crisis management.
Devising effective Crisis Communication and Management plans between agencies and various stakeholders to improve collaboration and coordination

Gain insights on various techniques critical to develop effective business continuity management plans for various incidents and situations including system failure, power outage, terrorism/security related incidents, harsh weather conditions, pandemic occurrences, drone-related disruptions amongst others
Discussing strategies to consolidate and align your Business Continuity plan with key stakeholders and relevant committees such as the airline, airport, ground handlers and control authorities
Discuss the use of Blockchain and Artificial Intelligence in supporting Business Continuity Planning

Adapting plans to reduce operational disruptions in an occurrence of an unexpected event.
Addressing human factors which impact the execution of business continuity plans, to optimize operational efficiency.
Enhancing the effectiveness and efficiency of your crisis management and business continuity plans by benchmarking them against leading airports, airlines and air navigation service providers' strategies and techniques globally.
WHO SHOULD ATTEND 4TH BUSINESS CONTINUITY MANAGEMENT FOR AIR TRANSPORT SUMMIT 2019
Across Airports & Aviation Authorities Globally
Heads/Senior Managers/Crew Chief/Managers/Executives/Officers/Specialist/Responders of
Business Continuity Planning/Management
Crisis Management / Risk Management
Business Resilience
Emergency Response / Emergency Management
Operations
Operations (Airport Landside / Airside)
Aviation Security
Airport Systems
Operational Excellence
Business Transformation
Like more information?
Email us today at enquiry@equip-global.com for more information!